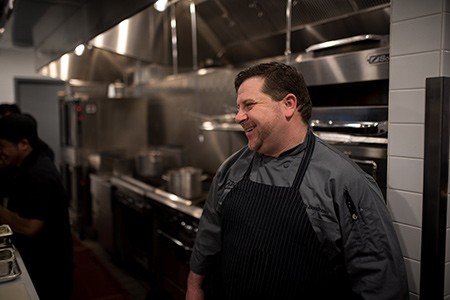 Chef Matthew Boudreau is a taste maker with diverse geographic cuisine experience ranging from five star dining to authentic BBQ. Chef Matty, as he is known in local circles, offers his guests palate pleasing flavors and always the freshest organic and local ingredients.
Chef Matty has spent the last 20 years working with esteemed chefs such as Charlie Trotter, Tommy Giovanni and honing in on his skills in kitchens throughout Los Angeles, Chicago, Memphis, and New Orleans which have allowed him to collect local flavors and dishes along the way.
He arrived in New York City to join the opening team at Balthazaar attracting the attention of Andre Balaz who lured him to Shelter Island to work at Sunset Beach. Matty was tapped to become one of the company's corporate chefs traveling between Miami, Los Angeles, and New York City. Europe opened more doors for him when he joined the Formula 1 culinary team as a personal chef. While living in London, he was approached by Chef Anton Edelmann to run his new restaurant CRU which focused on Farm-to-Table and small plates.
A love for the Hamptons eventually brought Chef Matty back to open his own restaurant Locavore on Shelter Island, to joining the team at Vine Street Cafe as the Chef du Cuisine for a time span of five years. He then went on to join the team at Barons Cove in Sag Harbor.
Matty's side passion is competing in local and national BBQ competitions, in which he has won numerous awards, and traveling the world for artistic inspiration.
At The Preston House and Hotel, Chef Matty is using his expert technique with new ingredients, new approaches, and fresh takes on classic standards ensuring a stellar, unique and innovative dining experience from beginning to end.